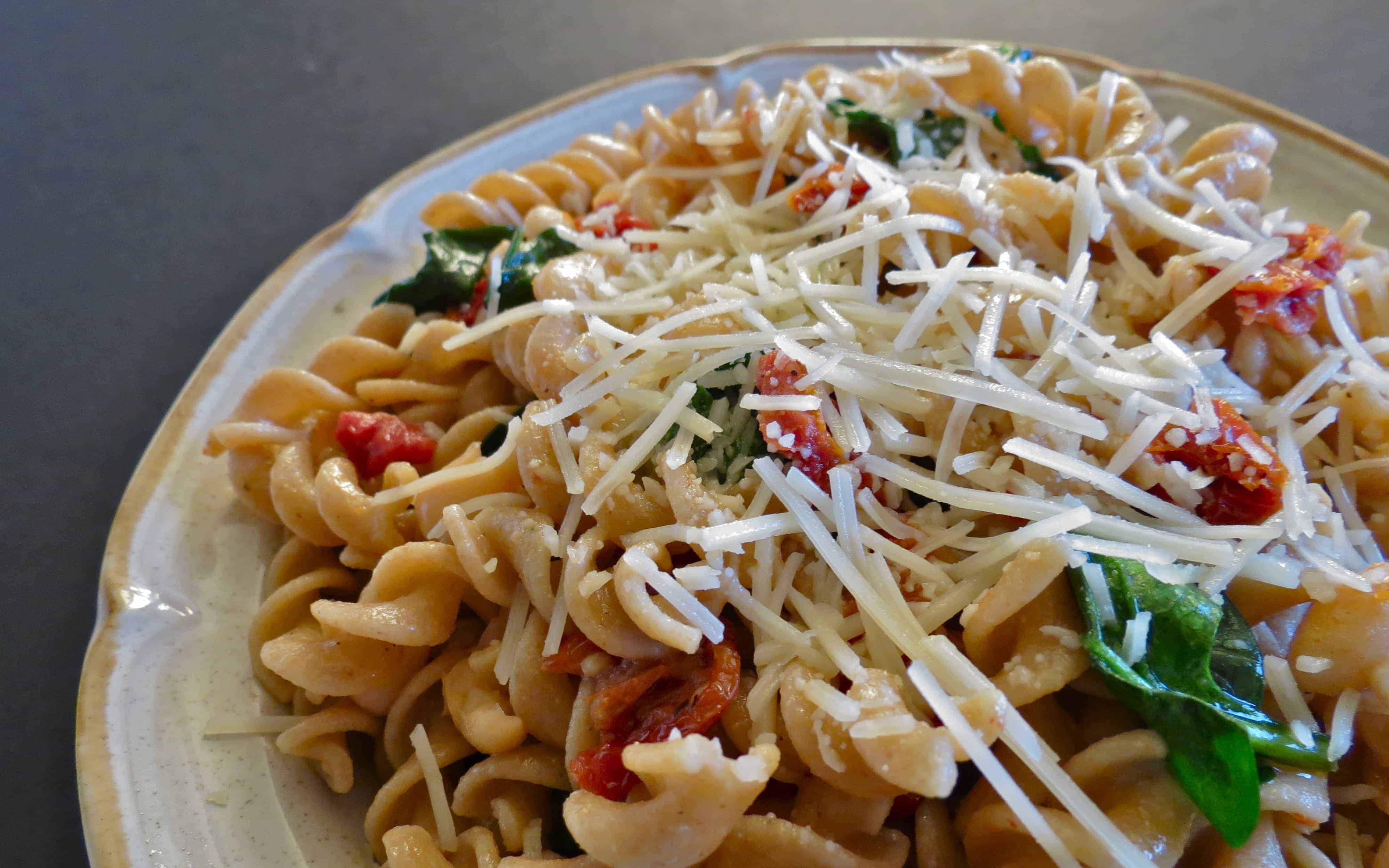 Well, laziness and necessity. As in, I'm too lazy to make an extravagant meal but I need to eat something besides cereal.
But let's start at the beginning with this story.
This week I returned to work after our long Christmas break. One of the benefits of working at a university is the break; even if you go into work, most of the offices have shortened hours (if they are open at all) and so the chances of staying for a full day are pretty slim. But classes started back this week, so it was back to the normal schedule for this one.
And I, of course, never do anything halfway, so I ended up going to the gym after work on Monday. Not only was it my first day back at work, it was also my first legitimate cardio workout since just before Christmas (the gym was one of those offices that was closed for the entirety of break), so by the end of my time on the elliptical, not only was I exhausted, I was also starving.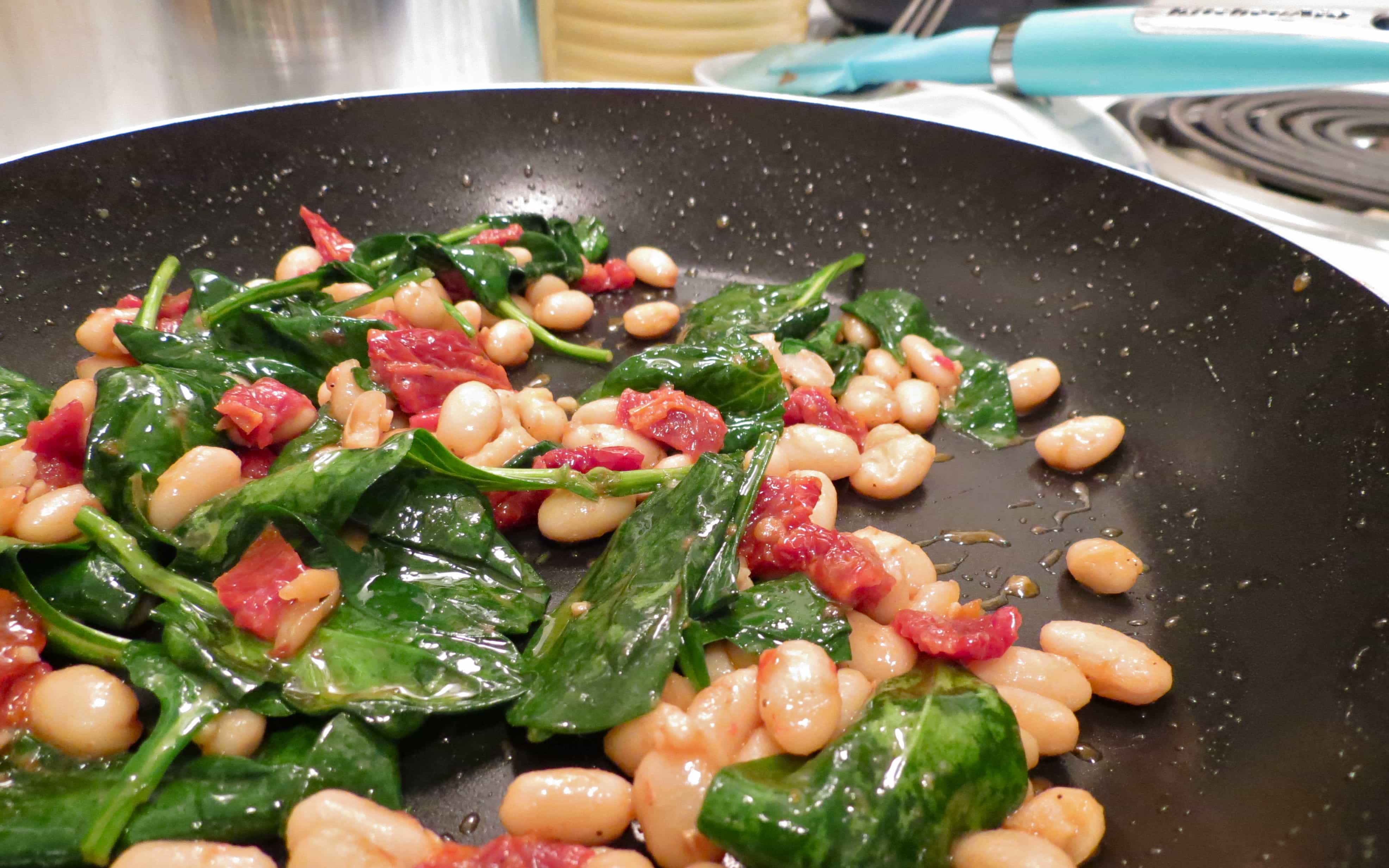 I was also on a time crunch. You see, I needed to get home, eat dinner, clean up the kitchen and shower before 7:00. It may or may not have had anything to do with the fact that my butt and I had a date with the couch starting at 7:00. The time of that date may or may not have coincided with the start of The Bachelor.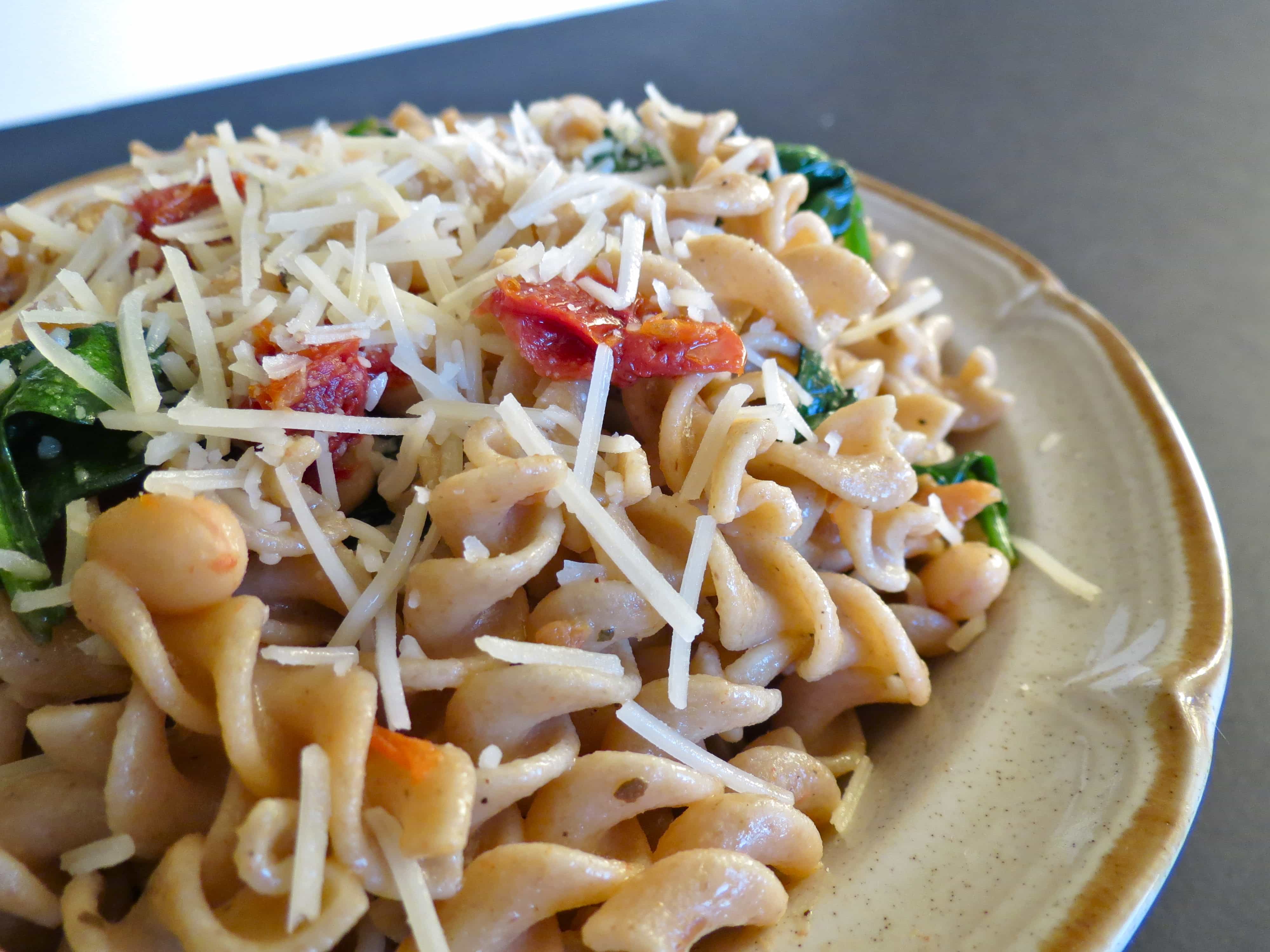 At any rate, as much as I just wanted to swing by and pick up some Chinese food on my way home, I knew that I really needed something healthier for me. I also knew that I needed some protein, and I wanted it to be quick (as already mentioned). I quickly made a mental inventory of the items I routinely keep on hand: beans, sundried tomatoes, spinach, pasta, wine, cheese…WAIT A MINUTE! I can totally make a meal from that!
How long will this meal take to fix? As long as it takes to cook your pasta. Also, you can make it for one or two people, depending on how much pasta you make. If you make it for two, I suggest adding another tablespoon or two of wine, just to make sure all of your pasta gets some love. Maybe you have kale instead of spinach on hand? Sure, no worries, throw it in! Maybe you have fresh tomatoes instead of sundried? Those will work, too! Don't get too wrapped around the axle over this one; it's meant to be easy, remember??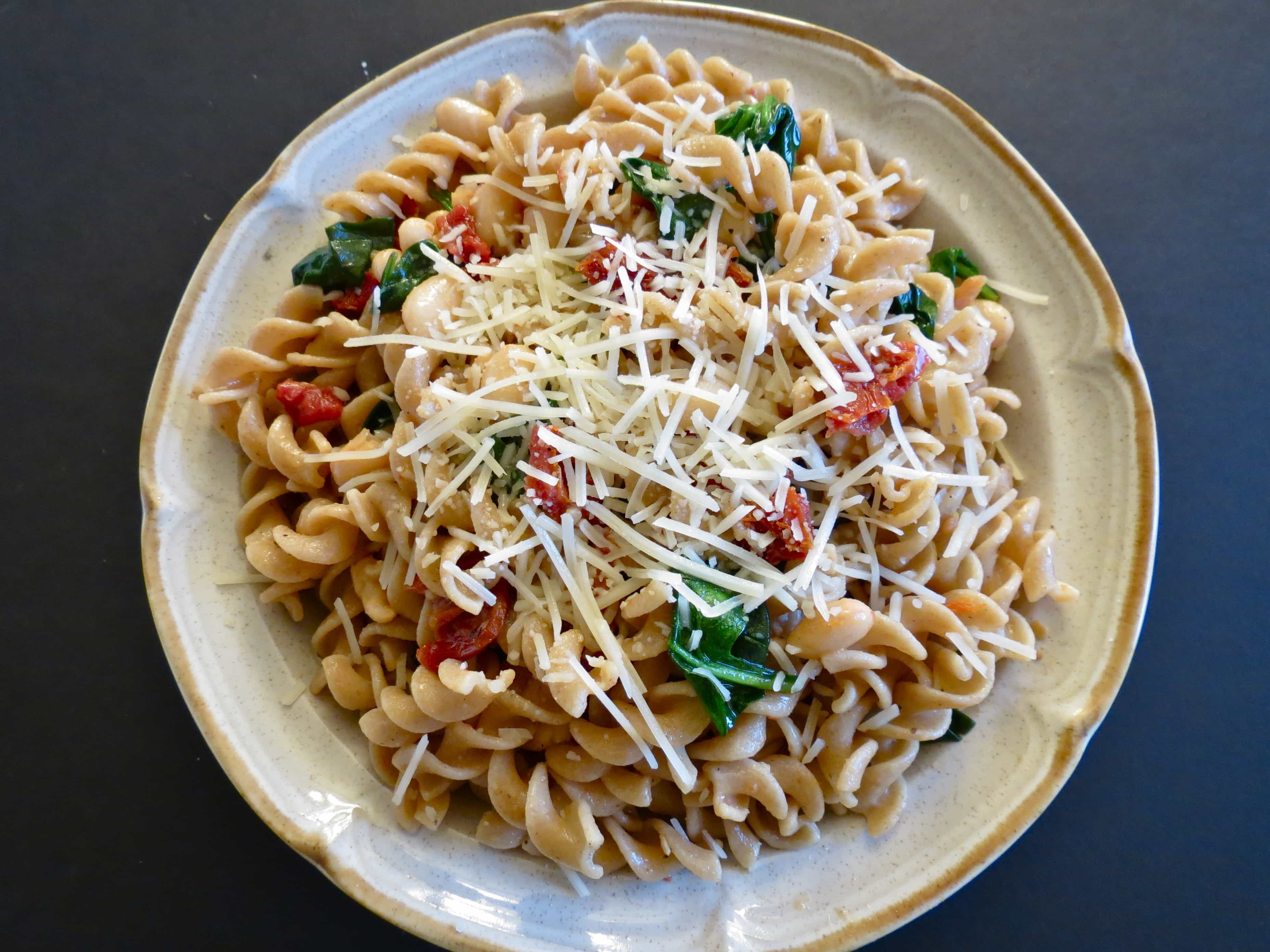 Now hurry up, or you might miss the start of your favorite trashy reality TV show!

White Bean, Spinach and Sun-dried Tomato Pasta
Inspired by/adapted from Eat, Live, Run
Ingredients
1 serving of the pasta of your choice (I used whole wheat rotini here, but any shape or even spaghetti would be fine)
½ can white (cannellini) beans, drained and rinsed
3-4 oil-packed sundried tomatoes, chopped
1 clove garlic, minced
1 tablespoon olive oil
3 tablespoons dry white wine
Pinch of cayenne pepper
Two handfuls spinach
Squeeze of lemon juice
Salt and pepper
Lemon zest (optional)
Parmesan cheese
Instructions
Cook pasta according to package directions.
While pasta is cooking, heat olive oil in a medium skillet over medium heat. Add garlic, cook for 1 minute.
Add beans, sundried tomatoes, wine and cayenne pepper. Bring to a simmer, cook until wine has reduced, about 3-5 minutes.
When wine has reduced, add spinach to the pan. Once spinach has wilted, add lemon juice. Season with a pinch of salt and a few grinds of pepper (to taste). When pasta has finished cooking, drain and add to pan. Toss together; transfer to a pasta bowl or plate and top with lemon zest and Parmesan cheese.
Notes
To make for two people, increase the pasta to two servings and use an additional 1-2 tablespoons of wine. You can also increase the sun-dried tomatoes and spinach slightly, if desired.