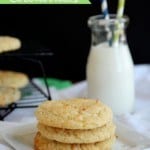 Snickerdoodle cookie base rolled in shredded coconut. Behold, the Cocodoodle!
I totally just made up my own word. And it was hard.
To be fair, I could have just called these cookies "Coconut Snickerdoodles" and been on my way. But that seemed too easy. Also, slightly misleading – would people think that they involved both coconut and cinnamon-sugar? (Not a delicious-sounded combination, if you ask me, but to each his own.) No, that wouldn't do.
…