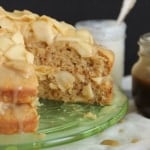 Brown sugar buttermilk layer cake smothered in apples cooked in brown sugar syrup and finished with a drizzle of the easiest vanilla bean caramel sauce.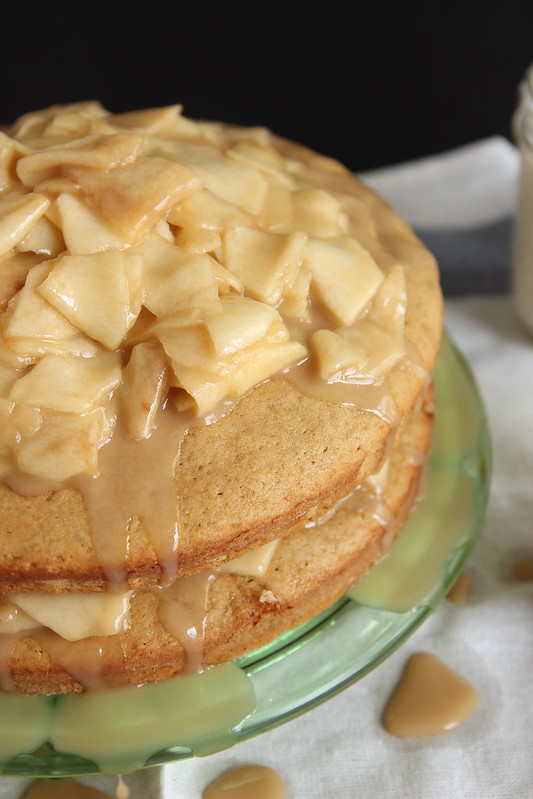 While I was off celebrating a family wedding this weekend and pretending not to have internet (don't lie – we all have those days), something pretty big happened around here: This little blog turned 3 years old!
Yep, that's right. Stephie Cooks – originally Eat Your Heart Out – is a toddler! Which is only fitting, considering that on Sunday our 19-month-old niece and I both spilled food down ourselves at lunch and spent the rest of the afternoon running around with stains on our shirts. Forever young?
Now is the point in this post where I thank all you for being loyal readers. It probably sounds cliche and dorky when you read that on sites celebrating their blogiversaries, but believe me – we mean every word of it. Think about it – without our lovely readers, us bloggers would just be babbling into the void. Which, while interesting, would also make us a little crazy. Thank you for justifying my babbling and making me less of a crazy person.
Thank you for commenting, liking, sharing, cooking, baking, and – of course – eating! Really, you're the reason I'm here and still typing away 3 years later. The differences between my original Cream Cheese Ranch Roll-Ups and my new Bacon Ranch Cream Cheese Roll-Ups should serve as evidence enough of how I have grown in the past 3 years. All of that work? For you.
…