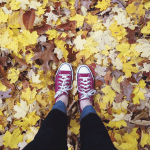 1. My blogging bestie-buddy
Julia
came to visit last month. It was our first time meeting in person and her first time in Chicago. We had to visit The Bean, of course. Boyfriend pretended not to know us. We also had dinner at
Little Goat Diner
with my other blogging bestie,
Stef
, and her husband. Boyfriend ate something called the "Goat Almighty", which was essentially an excuse for him to eat a goat burger, braised beef, BBQ pork, pickled jalapeños and onion rings all on the same sandwich.
2. While Julia was in town, we hopped down to Peoria to visit my parents, because Momma Swope and Julia are pretty much besties, too. We took that fine opportunity to go get tattoos – Momma and I got coordinating colon cancer awareness tattoos, because we are obviously badasses. Some of you may recognize the star as the symbol for colorectal cancer awareness. Momma's also says "Jehovah Rapha", which translates to "God Our Healer" or "God Who Heals".
3. This past Friday I was featured as the Friday Foodie over at
Misadventures with Andi
. Make sure you stop over and check out the interview – you can read all about my
unhealthy obsession with
love of pie, check out my advice for bloggers who are just starting out, and make a new blog friend in the process! Head on over, y'all. I'll wait right here until you get back….