I have to make a confession: I was going to bring you this post last Thursday. Unfortunately, I was really riding the stressed-out struggle bus last week, so this had to wait for today. I hope you'll forgive me for holding out on you a bit. I have new things I'm loving now to tell you about, so I hope that will make up for it. We've got coffee, booze, and the world's cutest puppy and kitten – basically all of life's necessities, so let's get started.
1. J.K.'s Scrumpy Hard Cider: I'm really not that much of a drinker. Boyfriend has a beer and/or bourbon+coke every night and is one of those people who can actually distinguish the flavor notes in a red wine, but me? If left to my own devices, it could easily take me months to finish a 6-pack of anything. But this, this cider. This is perfection. Aside from being organic, which is awesome, it's also unfiltered, actually tastes like the fruit from which it comes, and is the best dang hard cider I have ever had. I actually went to the gym on Sunday night just so I could justify drinking a second glass of this. I'm not even exaggerating. Even Boyfriend is a fan, and he usually scoffs at my hard cider-drinking ways, so that is really saying something.
Follow J.K.'s Scrumpy on Facebook
2. Girl and the Goat: Despite both of us being "foodies" (a term which I mostly dislike, but seems appropriate here), Boyfriend and I eat out shockingly infrequently. This has a little to do with being homebodies, a lot to do with both of us being able to cook, and even more to do with being mostly broke. This past Thursday, however, I had gotten us a reservation at Girl and the Goat here in Chicago, as we had not yet had a chance to celebrate both of us having "real" jobs now. This was my second time there, thanks to some very generous friends last summer (Hi, Kat and Will!), but because the menu is seasonal, most of what they were offering was new. We started with sourdough bread that epitomized everything a loaf of bread should ever be, ended with lamb ribs, and ate goat liver mousse served with homemade crumpets alongside house-made pickles, orange marmalade, and pickled mushrooms. Guys, this is probably the best food I have ever had. We hardly said 2 words during the meal; we were too busy dying and going to Heaven. The quality of the food is top-notch, the service is great, the atmosphere is relaxed and fun, and the flavor combinations will blow your mind. If you are ever in Chicago and have some advance notice, try to get a reservation there. If you're in town on a last-minute trip, check out Little Goat – it's owned by the same people, but is not as difficult to get into and apparently does an amazing brunch. We haven't had a chance to try it out, but it is next on our list.
Follow Girl and the Goat: Facebook | Twitter | Instagram
3. iCoffee by Remington: Up until recently, we were living with my mom's old percolator from college as our only coffee maker. I've seen this same percolator in antique stores. And while it still works perfectly fine, when we were offered one of the new iCoffee by Remington brewers to try out, I was more than happy to trade in and trade up. The theory behind the brewer is this: It uses patented SteamBrew™ technology to stir and steam the grounds, extracting the best flavors from your coffee and leaving behind any of the bitterness that can be associated with drip brewers. Ultimately, the flavor is a lot like what you would get from a French press…but without having to actually hassle with a French press. Because let's be honest – if Boyfriend was reluctant to fuss with the percolator early in the morning, a French press is not going to happen, either. This little guy is easy to use (even for someone like myself who never makes coffee), the reusable goldtone filter means that I don't have to remember to buy paper filters, and we can set the timer at night and forget about it until it starts brewing in the morning. Trust me, anything that makes mornings less of a hassle around here is a true blessing. But really, what is the coffee like? Well, let's just say that Boyfriend begged me to order him one of these thermoses, just so he could take an entire pot of our coffee with him to work and avoid drinking their bitter, crappy coffee. When my parents were visiting a couple of weekends ago, we made them a pot of coffee before going out to brunch. When we got to the restaurant, my dad declared that their Intelligentsia coffee was in no way as good as the coffee we had made using with the iCoffee.
iCoffee, you've created a couple of coffee snobs.
Follow iCoffee: Facebook | Twitter | YouTube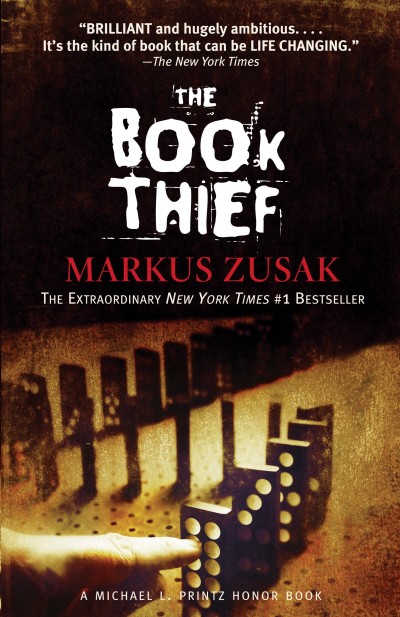 4. The Book Thief by Markus Zusak: Holy mother of pearl, this book wrecked me. Told from the perspective of Death (yes, Death is the narrator), it is the story of a girl growing up in Germany during WWII and the events that shape her childhood. Don't let the "Death is the narrator" thing freak you out – this book is not dark at all, and at moments it is surprisingly light-hearted. What moved me most about it was that, unlike most Holocaust books which portray anything and everything having to do with Germany as evil, this book paints a picture of everyday life in your average small German town, with the characters simply doing what they need to in order to survive. When I got to the last 100 pages, I told Boyfriend not to be alarmed if he walked in and saw me having a good cry while reading (which definitely happened, by the way). It is beautiful, heart-wrenching, and impossible to put down. I truly think that it is a book that everyone needs to read. 
5. This puppy and kitten combo: To make up for the fact that I may have just depressed you with my book review.
6. This video: It just makes me…happy. *facepalm* And while you're at it, make sure to pop over and check out my Friends First post with Amy from Very Culinary. She made us a pie that is so good and easy, it will make you lose your mind.
Post contains affiliate links. iCoffee provided a brewer for review, but all opinions are 100% my own.