Macadamia nuts, butterscotch chips, and white chocolate chips join forces in a delicious pie that couldn't be easier.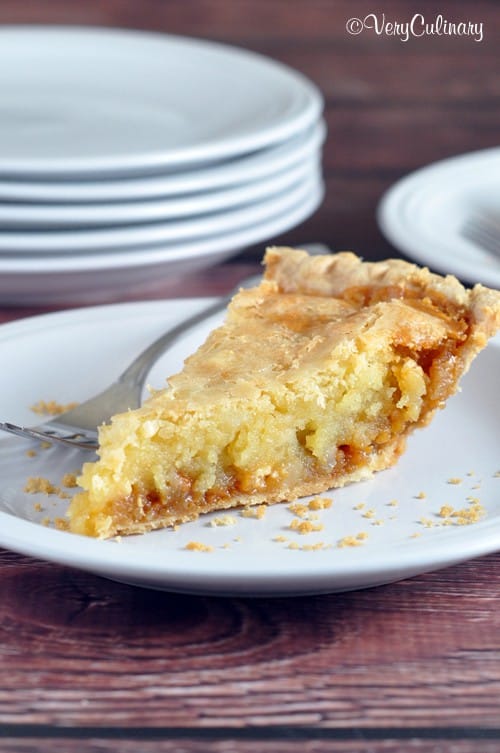 Happy Saturday, friends! Can you even believe that it is March already? I can only hope that March brings with it more sunshine and fewer snowflakes than February did.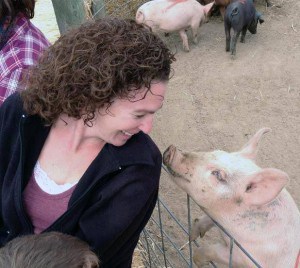 I know that I am always excited to introduce my Friends First guests, but there is a special reason that I am thrilled to introduce Amy from Very Culinary to you today: her's was one of the first blogs that I started reading during my senior year of college, before I even considered starting my own food blog. I adore Amy and cannot believe that I can now truly call her one of my friends. I think you'll adore her, too! She's a wife, mother of two, beagle lover, fellow curly hair sufferer, snow hater, and pie addict. Truly, I think we were meant to be. She and her husband, Paul, also make the most awesome parody videos. The "Royals" and "What Does the Fox Say?" parodies had me in stitches. Knowing how much we all love pie, she made us an incredibly easy (and gooey!) Macadamia Nut Butterscotch Cookie Pie, further proving why my love for her is eternal. 
_______________
Hi gang! Thrilled to be here and sharing Stephie's space for a day.
New to Very Culinary? Well, here are a few things about me that will catch you up to speed:
1. I get up at 4:30 each morning, but don't drink coffee.
2. I used to have a career in the music business, but like silence when I'm working.
3. My husband and I both work from home. Have mercy!
4. If you were to hang out in my house for a day, you'd think you had front row seats to a musical (except the singing and dancing isn't very good.)
5. I have super curly hair. And not that wavy-curly that everyone thinks they want. More like the kind where ladybugs hitch a ride.
6. I am an absolute emotional disaster if an animal gets hurt in a movie. I don't care if it's not real. It looks real enough!
7. My mother has the patience of a saint. And it skipped a generation, because I do not.
8. I love an easy stir-fry. And no good stir-fry should ever be served without white rice. Paleo will never happen for me. Ever.
9. If given the choice between any dessert and pie, pie will win every single time.
10. Even though I know how to make pie crust, I'm a big cheater and buy it.
So I made pie for you today. And it doesn't get any easier than this. If you're an over-achiever like Stephie, feel free to make your own crust. I won't be offended!
_____________
Thanks, Amy! Be sure to follow Very Culinary on Facebook, Twitter, Pinterest, and Instagram so that you never miss a single delicious post. Also make sure to check out the Very Culinary YouTube channel to see all of Amy and Paul's fun videos!
Macadamia Nut Butterscotch Cookie Pie
Ingredients
1 stick of unsalted butter, melted and cooled
1 cup granulated sugar
½ cup all purpose flour
2 eggs
1 teaspoon vanilla
¾ cup of chopped macadamia nuts
½ cup white chocolate chips
½ cup butterscotch chips
9 inch unbaked pie shell
Instructions
Preheat oven to 350 degrees.
Mix all ingredients and pour into pie shell.  Place on a cookie sheet and Bake 40-45 minutes. It will still be nice and gooey. If you prefer a firmer texture, let set for a couple of hours before slicing.