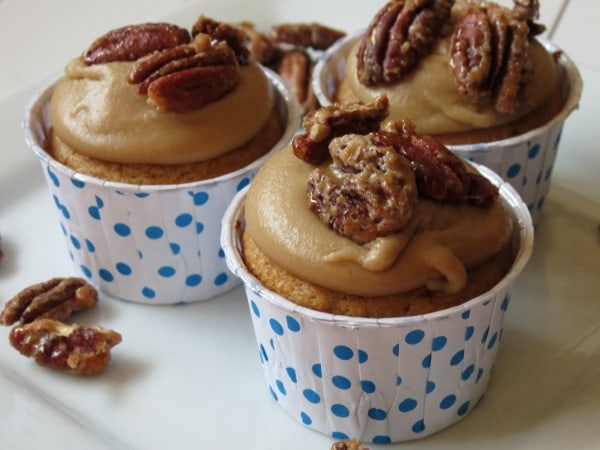 Sometimes I feel like a salad.
More often I feel like a carb. Pick a carb, any carb.
And it is with that in mind that I apologize for the abundance of sweet carb-filled recipes that may show up here in the next couple of weeks.
I mean, I'm sorry…but I'm not really that sorry. Trust me, I've got some great recipes to share with you. Starting with this one.
Sweet potato cupcakes…topped with a lovely brown sugar frosting…and garnished with glazed pecans. Do I even need to say more??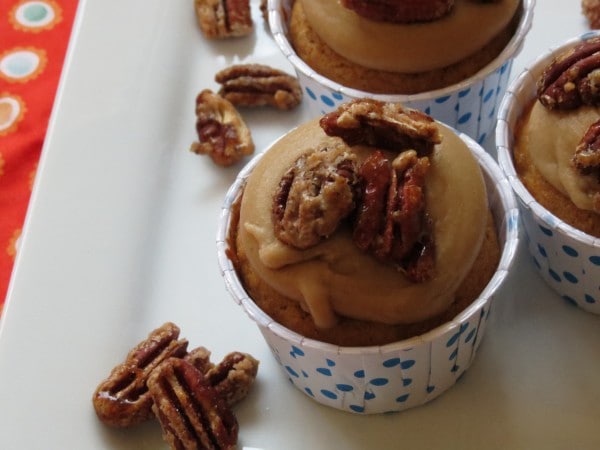 I didn't think so. After all, it's rude to talk with your mouth full.
Frosting recipe from Cupcake Project.

Sweet Potato Cupcakes
Ingredients
For the cupcakes:
¾ cup all-purpose flour
½ cup white whole wheat flour (or whole wheat pastry flour)
½ teaspoon baking powder
¼ teaspoon baking soda
1 teaspoon cinnamon
½ teaspoon ground ginger
2 large eggs
2 large egg yolks
½ cup granulated sugar
½ cup brown sugar
½ cup melted coconut oil
1 teaspoon vanilla
¾ cup cooked, pureed sweet potato
½ cup buttermilk
For the brown sugar frosting:
½ cup unsalted butter
1 cup packed dark brown sugar
¼ cup milk
2 cups powdered sugar, sifted
For the glazed pecans:
¼ cup granulated sugar
1 cup pecan halves
1 heavy pinch cinnamon
Instructions
To make the cupcakes:
Preheat oven to 350 degrees.
On a piece of parchment paper (or in a medium bowl), sift together the flours, baking powder, soda, cinnamon and ginger. Set aside.
In a large bowl, whisk together the eggs, yolks and sugars until pale yellow and no clumps of brown sugar remain. Whisk in the coconut oil, vanilla, pureed sweet potato and buttermilk until thoroughly combined.
Slowly add in the dry ingredients, mixing until just combined.
Spoon batter into a lined baking tin and bake for 18-20 minutes, or until golden brown and a toothpick inserted into the center comes out clean. Remove to a cooling rack and allow to cool completely before frosting.
To make the frosting:
In a medium saucepan, melt the butter over medium to medium-high heat. Add in the brown sugar; bring to a steady boil, then reduce heat to medium-low and allow to boil for 2 more minutes, stirring constantly.
Stir in the milk and return to a steady boil, still stirring. You should now have a lovely caramel sauce.
Remove from heat and (carefully) pour into a medium bowl. Allow to cool.
Once the mixture is lukewarm, beat in the powdered sugar with an electric mixer until smooth and your desired consistency, adding a bit more powdered sugar to thicken or a bit of hot water to thin.
Pipe or spread onto cooled cupcakes and quickly garnish with glazed pecans.
Store frosted cupcakes in the refrigerator for up to 3 days.
To make the glazed pecans:
Line a sheet pan with parchment paper. Set aside.
Combine all ingredients in a medium skillet and heat over medium heat, stirring occasionally.
After several minutes, the sugar will start to get sticky, and with a bit more time will start to melt. Keep stirring to coat the pecans.
When all of the sugar has melted and is a lovely amber color, Pour the pecans onto the prepared sheet pan. Use two forks to separate the pecans. Allow to cool. Use to garnish cupcakes. Store leftover pecans in an airtight container.
Notes
For a less coconut-y taste, substitute melted butter for half or all of the coconut oil in the cupcakes. Additionally, it is really important that your sweet potato be pureed and not just mashed in order to achieve a good cupcake texture, so give it a whirl in the food processor.